Shine On…with Jonathan Straight, Chief Executive of Straight plc June 20th. Wakefield. 11.30am to 12.30pm
Can Jonathan Straight help you go green on June 20th ?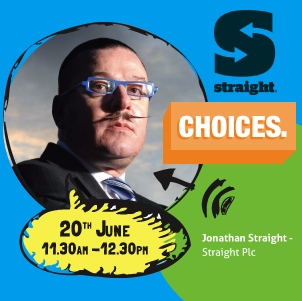 Since 1993, Straight has been making money out of your rubbish, garden compost and recycling. Without even knowing it, the chance's are the bin, recycling point or compost bin you use was made by Straight plc.
Jonathan is a true entrepreneur, born and bred in Yorkshire. Him and his team have built Straight plc, launching it on the stock exchange… not bad for a local lad who started life failing his exams at school! Find out how you might go about creating your own business at this great free event.
On June 20th, from 11.30am to 12.30pm, you will have the chance to find out how Jonathan managed to create his own business, what he thought when he failed his exams at school, and his thoughts about how you can get into business.
Location Details
Location: Outwood Grange Academy